GUI Galaxy
GUI Galaxy is a portal site for Mac interface customization enthusiasts (desktop designs, mp3 player skins, icons). The members of this global collaborative project originally met online in the late 90's via the Hotline server of the same name. A brief history of each site design iteration is below.
2005

The last, "classic" version of the site design went live in 2005. This time around, we wanted the site design to have more of an elegant web app type-feel. The twin news columns were ported over, and this time each was made searchable. The site engine was a custom CMS developed by Mike Lovett from the ground-up.

As with the pseudoroom design site from the same year, the underlying code for GUI Galaxy was completely standards-based, garnering it a Silver Star from the Web Standards Awards.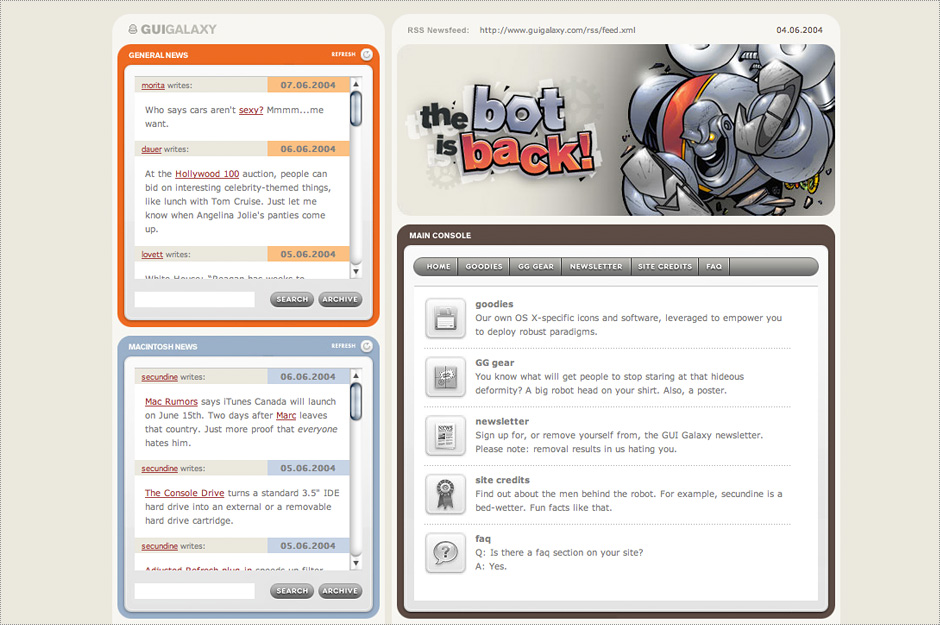 2003

Learning from the shortcomings of the last design, this version segmented news into 2 distinct columns: Mac/Technology-based, and UI customization-based. We also implemented a rudimentary CMS to facilitate more news authors posting. Another goal of this iteration was user/community interaction with the site, so the bottom portion consisted of user-submitted photography from around the world.
2002

"Iconverge" was the community project we developed for icon artists around the world to collaborate together. The gist of the project: we would develop a broad theme and submit to the community at large to develop their own icons upon. Everyone involved would then pool their icons into a collective set that we released for all to enjoy.

This mini-site was linked from GUI Galaxy, and the iteration/theme in 2002 was creating your own superhero, and his/her surrounding "universe".
2002

The first design for GG set the tone for much of what the site would consist of throughout its numerous eventual iterations. Mac/design/UI-customization news posts, interviews with our peers in the field, custom-designed tee shirt sales, and of course, our own downloadable customization designs. As with the design for pseudoroom the previous year, this iteration of GG was ultimately picked up by K10k, which put the site on the map, so to speak.

On the GG Hotline server, I had installed automated "bot" software which oversaw several functions: managing client downloads, disconnecting over-idling users, and spouting pre-written (off-color) phrases in general chat based upon key word triggers. The bot was logged into the server under the name "Bishop", and became such a hit that we transferred his persona over to the web site. The visual design of the character itself was done by French artist Raoul Sinier.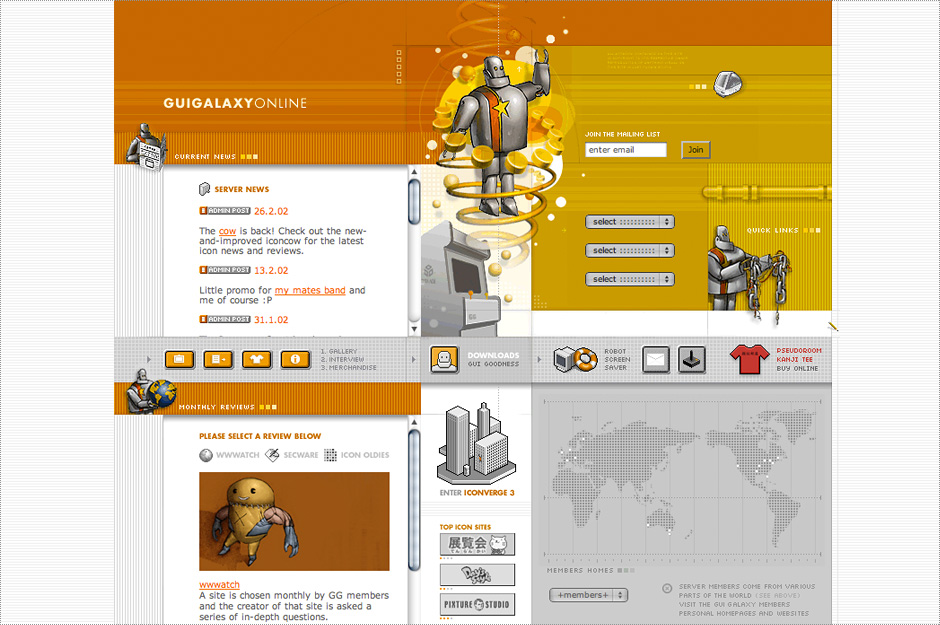 ---